Candidate Resources
"Every great accomplishment begins with the decision to try."
- Gail Devers
Applying for a scholarship is an enriching process that will help you prepare for your career. However, it does require a great deal of work. You will find that developing an application will help you clarify your short-term academic goals and define your long-term objectives. The resources below will help you prepare for each stage. This begins by identifying an opportunity that meets your needs and extends throughout the writing process.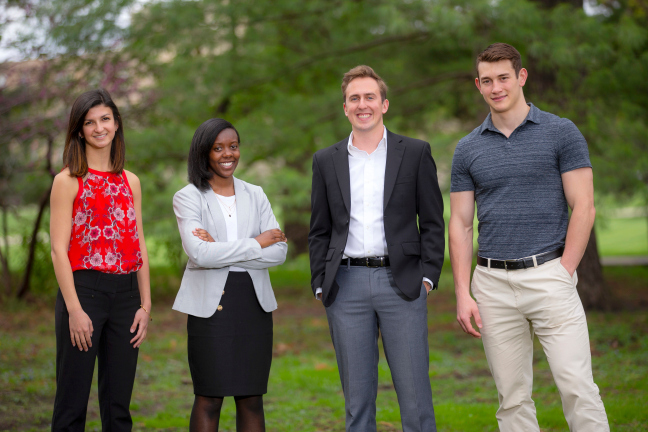 Fellowship and scholarship opportunities are much more than just a means to obtain money. Regardless of the outcome, completing an application will help you develop valuable skills that are transferable to other aspects of your academic and professional career. As an undergraduate student, seek experiences that maximize your personal, intellectual, and professional growth. Becoming a good candidate for a national-level award should be the by-product of striving toward excellence and realizing your intellectual and academic capabilities. Here are a few tips:
Pursue a challenging academic path and stretch your intellectual curiosity. Join the University Honors Program, study a foreign language, take a graduate level course, add a minor or major.
Develop your writing skills. Write conference presentations, short stories, or popular articles. Work with faculty and writing consultants in the Center for Communication Excellence or the Writing and Media Center.
Keep track of your achievements (large and small) using the ISU Co-Curricular Transcript.
Seek out work, internship, and volunteer experiences in your field beginning in your freshman year. Visit career services in your college for guidance, resume review, and interview preparation.
Make time for public service and volunteer in an area that you are passionate about. Try to connect service to your future academic and career goals. Explore potential options at the ISU Leadership and Service Center.
Study, research, or work abroad as early as possible. This can help you gain new perspectives, increase proficiency in a foreign language, and expand your world view. Visit the ISU Study Abroad Center to start planning.
Plan extra-curricular involvement carefully. Be active in organizations that are meaningful to you and relevant to your academic journey. It is less helpful to be a passive member of 10 organizations than it is to be an active member of 2 or 3. Check out ISU student orgs here.
Identify teaching, mentoring, and leadership opportunities as early as your freshman year. The ISU Leadership and Service Center can help you identify options.
Get involved with Undergraduate Research. Share your research in local, regional, and national conferences and, if possible, publish your findings.
Apply to departmental, college-level, and national summer scholarships to prepare for future national-level and international competitions. View opportunities here.
Build your network. Dedicate time to forming relationships with faculty, staff, colleagues, and peers who will support you. Faculty relationships, in particular, will help as you begin seeking letters of recommendation. Visit them during their office hours and attend department lectures.
Be honest with yourself. Spend time thinking about your short and long-term goals, what issues motivate you, and what you hope to gain by participating in a scholarship program. This will help guide your academic and extra-curricular decisions.
Think outside the box. Actively seek out development opportunities. Be innovative. Create something new.
Conduct informational interviews with role models in your field. Identify a mentor to help guide you.
Read books, academic journals, and publications that relate to your discipline. Stay abreast of current issues and trends in your field.
Plan your activities and research opportunities. Familiarize yourself with timelines and application deadlines. Read profiles of past winners for the awards you hope to pursue in the future.
Use the resources below to search for fellowship opportunities that may be a fit for you:
Completing a scholarship application may seem simple, but the writing process takes time. You will want to study the opportunity and learn about the application process and timeline. Here are some questions to consider as you begin:
What steps do I need to take when applications open?
When should I contact recommenders?
When should I begin writing?
How much time will I need to set aside to edit and revise essays?
If you apply to multiple opportunities, you will find that the answers to these questions can vary widely. Generally speaking, you will want to have a plan of when you will complete each step and budget your time. Use the resources below to help with every phase of the application. Contact the Coordinator of Nationally Competitive Awards to identify potential programs, discuss application timelines, and learn more about the writing process.
The Statement of Purpose/Research Essay is a piece of writing that goes by a number of different names depending on the scholarship. This essay is the heart of your application. It should answer the who, what, where, why, and how questions and provide a clear picture of what you propose to undertake. Tell readers how the scholarship will help you achieve short and long-term academic, personal, and professional goals. Applications to conduct undergraduate or post-graduate research should begin by providing reviewers with an overview of the problem or question. The essay should then cover how you will research the topic, what your scholarly contribution will be, and why this is an important academic endeavor. Experiential and service applications will combine many of these themes. Explain how your background and experience prepared you to contribute to the program's mission and host community. Regardless of the audience, focus on your contribution rather than what you will gain.
Seek guidance when writing these essays. Research and graduate study applicants should work with a mentor or advisor in their academic discipline. Mentors will often provide crucial advice on resources for research, feasibility of a project, and potential contacts in a host country. Applicants should also seek help from the Coordinator of Nationally Competitive Awards for help tailoring applications to a particular scholarship or fellowship opportunity. This process takes time and usually requires significant revisions over the course of many weeks. Budget your time and plan accordingly. Applicants should also consider working with advisors in the Center for Communication Excellence or the Writing and Media Center during all stages of writing.
The Personal Statement is a short piece of writing that gives you an opportunity to convey your passion and personality to reviewers. What are your background and personal interests? How did they lead you to this fellowship? How will this opportunity prepare you for your career? This is an opportunity to be yourself and show readers what distinguishes you from other applicants. Dedicate equal time to this portion of the application and be open to feedback and suggestions. This will help you create a final product that will engage reviewers who read hundreds of statements. Review the resources below and visit the Center for Communication Excellence or the Writing and Media Center for additional guidance.
Letters of Recommendation are another vital component. Depending on the award you are applying for, you may need anywhere from 1-8 recommenders. Below are some tips on selecting and communicating with your references:
Choose people who know you well. Impressive titles are nice, but if the reference has limited knowledge of you and cannot provide specific examples, the letter will not be as helpful.
Read specific instructions regarding letters of recommendation for the award you selected. Most scholarships will require at least one (if not all) academic reference. Building faculty relationships is extremely important. Begin early in your undergraduate career. Show up during your instructor's office hours, apply for research opportunities, and attend department lectures and events.
Letters from high school teachers, peers, and family friends usually do not carry as much weight as the more recent academic contacts from your university.
Provide your reference writers with adequate advance notice. A minimum of 4 weeks is appropriate.
Ask potential references if they would be willing to write a letter for you. Then, follow up with the date they must upload the recommendation along with instructions on how to submit. Share some general information about the scholarship and why you selected this particular program.
At some point in the writing process, share a draft of your application with each recommender. This will often vary from one person to the next. One recommender may want to see an early draft and take an active role in the writing process. Others may prefer to see something closer to a final version. Be flexible.
Follow up and stay engaged with recommenders. A gentle reminder that the deadline is approaching can ensure that writing your letter remains a priority.
Write thank you notes after submitting and inform them when you receive news about your application status. After all, they devoted their time and energy helping you apply for this award!
Interviews are a part of many application processes should you be fortunate enough to be selected as a semi-finalist. Work with your recommenders and the Coordinator of Nationally Competitive Awards to prepare. Here are some additional resources:
The fellowships listed below require participation in the campus process. We have formed committees comprised of experienced Iowa State University faculty and staff members to support applicants and prepare them for the next steps if nominated. For more information on fellowship and scholarship opportunities, consult the Nationally Competitive Awards Directory.
Candidates should complete and submit the Application for Nationally Competitive Awards prior to the campus deadline to be eligible for review.